Experts
in mortgage management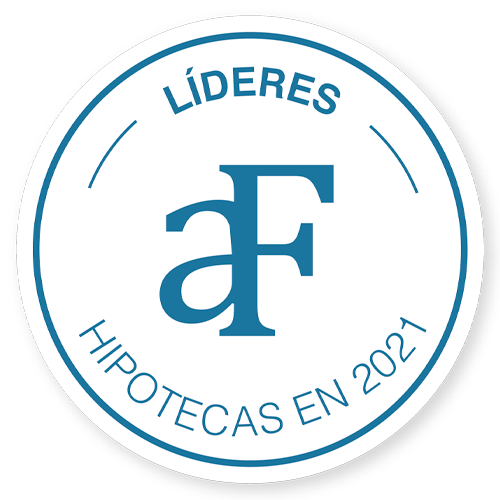 aFinance is a leading mortgage broker specialized in the management and negotiation of mortgage loans and offers you the best conditions for you to enjoy your new home.
aFinance provides you the best conditions for the purchase of your home

Mortgage 100%
We get you the maximum financing for the acquisition of your home.

Savings
We negotiate with the banks the best market conditions.

Speed
Free study in 24 hours, without obligation.

Easy
A personal manager accompanies you throughout the process.
Experts in mortgage management
aFinance is a leading mortgage broker, leader in the management and negotiation of mortgage loans.
300 professionals at your service
Servicio totalmente recomendable. Muy agradecidos por su gran profesionalidad y por su trato a nivel personal. Dar las gracias en especial al gestor Adriano Olmos, todo un ejemplo de profesionalidad.
Gracias a Joan Domingo hemos podido firmar una hipoteca la cual llevávamos tiempo intentándolo. Nos ha ayudado en todas nuestras dudas y no eran pocas. Se encargó él de todo el papeleo y de buscar la que más encajara a nuestras posibilidades. Solo tengo palabras de agradecimiento. Recomendable 100%. Y una vez más... Mil gracias Joan.
La mejor empresa financiera sin duda!! Mi asesora Magdalena Falcon Fiappi es toda una profesional, informándonos en todo momento de sus gestiones, buscando las mejores condiciones del mercado y acompañándonos en todo momento a reuniones , firmas..hha peleado por conseguirnos lo que buscábamos y estamos súper contentos. Recomendaría afinance con los ojos cerrados y , por supuesto, a Magdalena Falcon, ha conseguido lonque ninguna financiera nos daba. Gracias por todo

Excellent review from our users
What are the steps?
The client contacts us and presents their specific case.
The client will receive a response from the analyst indicating the viability of the operation.
We take care of all the steps necessary for the formalization of the requested mortgage.
We contact the client to confirm all the details of the deed before a notary.
Frequently asked questions
What advantages can Afinance offer me?
That you will always get the best conditions on the market and therefore make a significant saving during the life of the mortgage.
aFinance works for your interest
We carry out the study of your mortgage for free in 24 hours and without any kind of commitment. We negotiate for you with all the banking entities the best market conditions. We get the maximum financing on your mortgage.
Save money, time and headaches with aFinance.
Barcelona

93 293 19 07

Paseo de Gracia 85, 8ª planta

Madrid

91 800 54 66

Serrano 60, 4ª planta

Sant Cugat del Vallès

93 293 19 07

Plaza Ausiàs March 1, 4ª planta

Valencia

96 128 59 68

Calle Mossen Femades 3, bajo dcha. Ed. Lauria

Palma de Mallorca

97 100 32 03

Calle Unió 9

Alicante

96 564 11 13

Málaga

95 156 38 58

Sevilla

95 525 24 41

Bilbao

94 691 01 18

Pamplona

94 801 37 51

San Sebastián

94 338 04 47